Mattress Toppers
A pillow top, sometimes more commonly known as a "topper", is a terrific enhancement to any mattress or sleeping surface. It molds to the tuft indents giving you a very uniform and flat sleep surface. It also gives an added layer of surface cushioning, while not taking away from the all-important support of the mattress itself. Your hips, shoulders, knees, elbows, and any other part of the body that makes sharp contact with the bed, will be the first areas to enjoy the extra cushion. The combination of a Charles H. Beckley box spring, mattress, and pillow top, is the most luxurious and comfortable sleep that we can provide.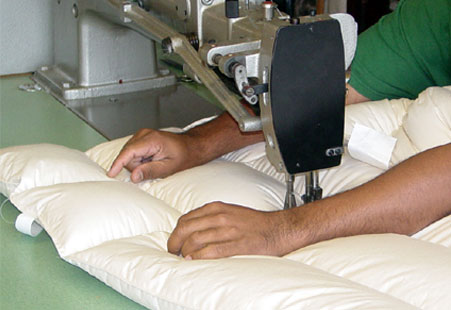 Each pillow top is generously hand filled and then sewn in a square "biscuit" pattern, which keeps the fillings from shifting by dividing the overall piece into small sections, this also helps maintain the form and feel. We have several options to choose from for your pillow top to be filled with(see below).
As opposed to most manufacturers these days, we still make our pillow tops removable, instead of sewing them permanently to the top and/or bottom of the mattress. We want you to have the flexibility to flip your mattress and use both sides evenly, as well as fluffing and caring for the topper independently.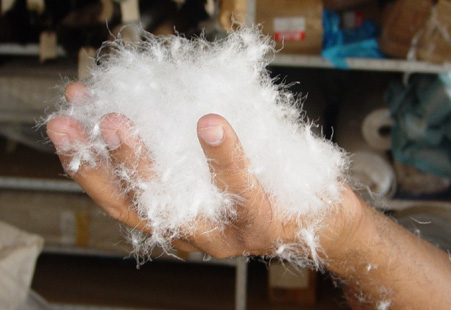 Goose Down - We consider our 100% goose down filled topper to be the absolute top of the line and best way to enhance your sleep surface. It is extremely fluffy, plush, luxurious and adds the most ideal amount of cushioning that we can offer.
Organic Lambs Wool - This topper has a slightly firmer surface feel when compared to the goose down. It is also very resiliant to wear and loss of body over time, and rarely needs to be fluffed.
Polyester Fiber-Fill - Similar to the material used to fill most basic sleeping pillows, this topper adds a full-bodied cushion to the surface of the mattress.