Electric Adjustable Beds
Our electric adjustable beds are built with a hardwood frame and can include attached legs, wheels, or be made to fit inside a bed frame. The hardwood frame contains the electric motor and all necessary moving parts, to give you the ability to raise the head and/or foot of the bed. We offer the option to upholster the frame in fabric or it can be covered in our ticking material. (headboard sold separately and not required as part of electric adjustable bed)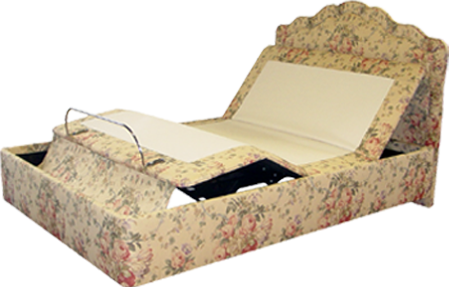 Upholstered Full Size Electric Adjustable Bed, 12" High Surround, Upholstered "K" Headboard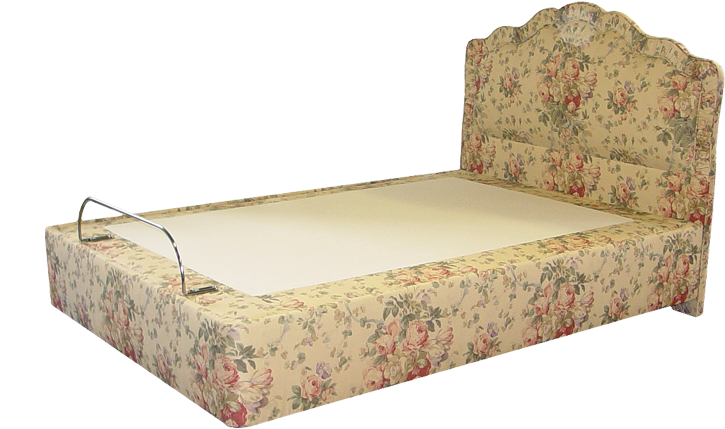 We have recently upgraded our electric motor to a state-of-the-art model which uses a very simple motion and eliminates many of the moving parts used in older models. Other new features include:


Wireless Hand Control
Massaging Feature
Pre-Set Positions
Quieter Motor
Wallhugger®
The Wallhugger® is a newly designed feature which allows you to still easily access to your nighttables while the head position is lifted up. The concept behind this new mechanism is that it will shift back the entire bed platform as the head is lifted up; older versions would simply have had the head go right up and take you away from your normal position.
The remote control operates the unit by wireless communication. Illuminated, raised touch keys provide easy to find buttons, even in the dark; optional features include storing your favorite comfort to memory and a one touch flat position button, equipped with upper and lower therapeutic body massage, including wave action to relax tired muscles from head to foot. Optional features include: intensity variation and timer.
*Wallhugger is a registered trademark of Leggett and Platt Incorporated*